Hotels.com: Book hotels, vacation rentals and more
50.0.1.8
Booking App – Book the Hotel for Your Next Trip Today!
If you are traveling abroad and are having difficulty in finding accommodation then this booking app can help you out. Hotels.com: Book Hotels, Flats, Cottages and More is a useful app that gives you the chance to find the best hotel deals for your trip. It has an incredible database of hotels, flats and cottages. You can find a hotel room anywhere in the world on this app. Just type in the name of the country or city you are traveling to and it will find a suitable accommodation that is ideal for your particular needs. There are both affordable hotel rooms as well as luxurious flats and cottages available on this app. You would be able to save a lot of money on your trip if you choose this app for booking your hotel rooms.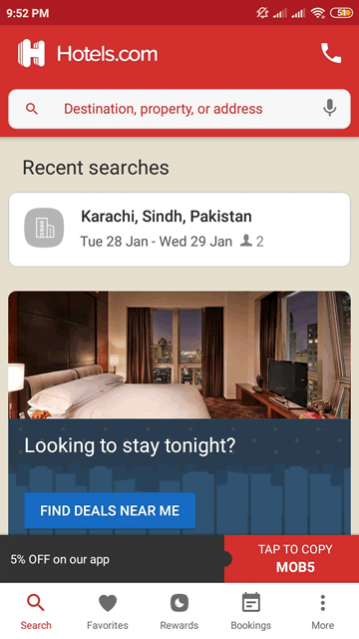 Hotels.com: Book Hotels, Flats, Cottages and More has a user-friendly interface that makes it easier for you to interact with the app. Moreover, the layout of this booking app has been designed very intuitively. This ensures that you won't have any difficulty in finding the different features that this app has to offer to you. However, before you book a hotel room, you will be asked to sign-in or sign-up first. You can sign-in using your Facebook account or sign-up using any email ID. The sign-up process will inquire you about your name and some basic information. Once the sign-up process is completed, you will be able to begin searching for hotel rooms and travel deals. Users who sign-up receive special rewards and discounts for booking hotel rooms.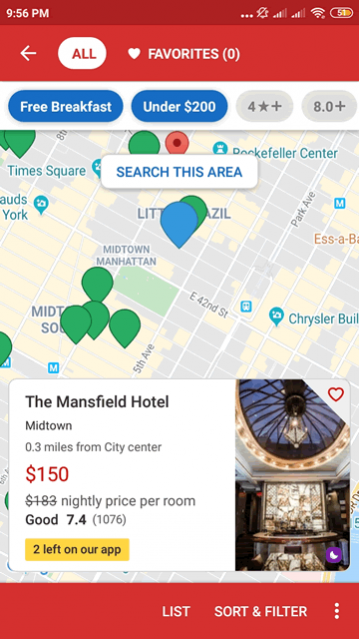 This booking app lets you search for accommodation at destinations that you will be traveling to. There is a search bar provided on the app's home screen for this purpose. You can enter the name of the destination there and it will find the best deals in a matter of seconds. There are various sorting options provided so that you can refine your search. Also, there are two view modes available for checking out the hotels and flats that the app has found for you. The first one is the list mode in which you can see the names of the different hotels and the prices available for each. If you want to find out the location of the hotels then you can switch to the second mode that is the map mode.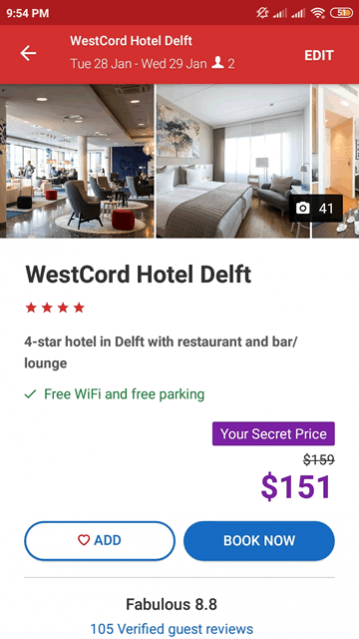 Hotels.com: Book Hotels, Flats, Cottages and More lets you get an in-depth look at all the deals on offer before making your decision. You can also compare two or more deals to see which one would suit your budget. To further help you choose, this booking app provides user reviews for each hotel room and flat present in its database. You can get a good idea of the hotel and its services by reading these reviews. Booking your hotel rooms using this app can get you awesome rewards too. The Hotel.com Rewards gives you an extra night stay when you make a certain number of bookings using the app.
Features:
User-friendly interface
Intuitive design and layout
Search hotels in any part of the world
Find amazing hotel deals for your trips
Compare hotel deals to find the best one
Book hotel rooms in advance for your trip
Get special discounts on certain properties
Earn extra night stays with Hotel.com Rewards
Travel guides available for planning your trip
Conclusion:
Hotels.com: Book Hotels, Flats, Cottages and More is an app that is designed for tourists and businessmen that have to travel frequently. It provides them a variety of hotel deals for various destinations all over the world and book hotel rooms for your trip in advance. It is a booking app worth having on your phone if you are looking for affordable accommodation during your travels.
---
Add a review
Tell us your experience with
Hotels.com: Book hotels, vacation rentals and more
50.0.1.8
RELATED PROGRAMS
Our Recommendations
---
---
---
---